If you've ever been to an open mic, you'll know that poets are the hardest to spot.
Musicians can usually be identified by their instruments, and more often than not you'll find a group of them sitting together, strumming (and humming) to a familiar tune.
Then there will be the organizers, who will have to set up the microphone, check the sound system, test the camera and get everything ready before the party can officially begin.
But there is nothing distinctive that sets the poet apart from the crowd.
It could be the person sitting with a glass of iced tea in the far corner of the room, just as easily as it could be the one laughing with their friends at the larger table in the cafe.
I attended Chatown Community's Open Mic Night, which took place on December 10 at the Park Circus store at 8th Day Cafe & Bakery. One of the first open mics of the season, the event was a way to indulge in Christmas cheer with an evening of poetry and music by a few young artists in town.
Courtesy of the Tuli Mitra / Chaitown community
I was one of four poets participating in the open mic and two years of playing poetry within the confines of a rectangular screen had left me somewhat unprepared for the clamor of people inside a real coffee, giving way to these devious thoughts:
What if I forget my lines?
What if I stutter?
What if they were bored?
And the worst nightmare of all artists: What if no one is listening to me?
After convincing the organizers to remove my niche from the first position (yes!) Say you won't let go.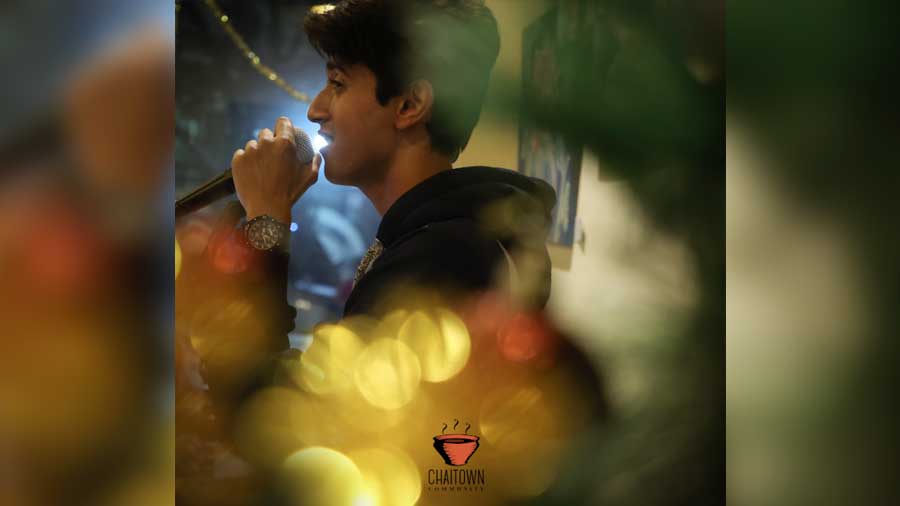 Courtesy of the Tuli Mitra / Chaitown community
There was a good mix of open mic poems, each one as evocative as the last, centered on different moods and reflecting a multitude of emotions. Amid the usual dose of love and heartbreak poems, we also managed to tackle more nuanced themes. As Akash took everyone on a nostalgic journey into the past with his poem about childhood, Rashi pondered the plight of over-thinkers and drew big smiles and nods of approval – indicating how his words resonated. with all who were listening.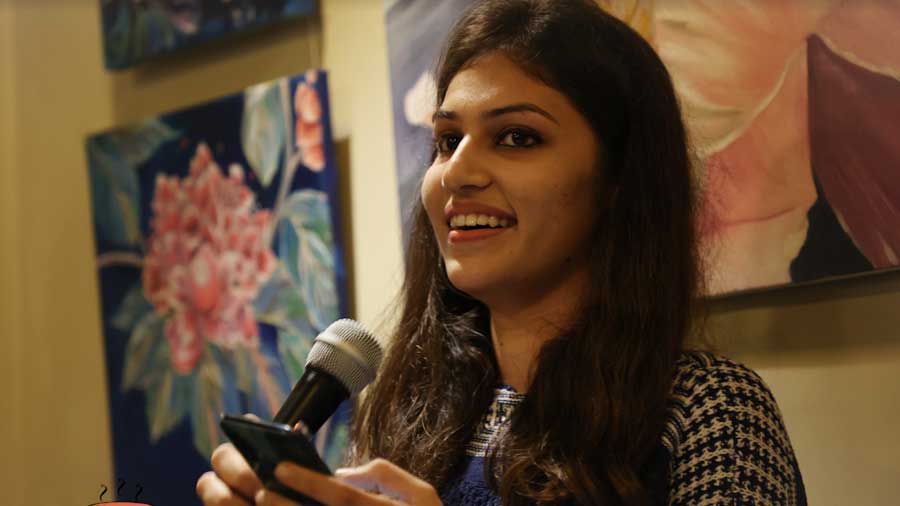 Courtesy of the Tuli Mitra / Chaitown community
There is something inherently calming about an evening of music and poetry with a group of random strangers you've never met before and, in all likelihood, will never see each other again. There were a lot of different people in the cafe that night – groups of friends, office mates, families – and yet they all turned to listen when someone read a poem about love, they They were all tapping their feet to the beat of the music, and they all applauded and encouraged the participants. In many ways then, an open mic is a testament to how art can bring us all together.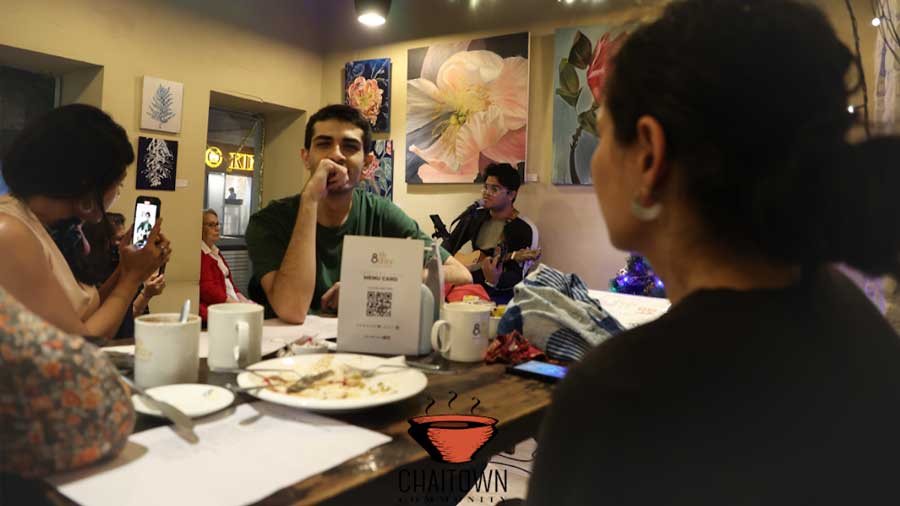 Courtesy of the Tuli Mitra / Chaitown community
No matter how seasoned a performer is, there will almost always be a case of heebie-jeebies right before the performance. The reason is simple: it doesn't take much for things to go wrong on stage. When you've got a room (or in my case, a cafe) full of eyes that bore you, that's all you can do not to obsess over every imaginary detail that can go wrong.
Being on stage is a different experience every time; no matter how much you practice ahead of time or anticipate every possible way an audience might react, reality will always be slightly different and will require you to think on your feet in order to come up with an appropriate response. In many ways, it's like preserving a structure on the outside and "winging it" when it comes to the details. Whether those wings help you fly or send you crashing down is a question only the moment can answer.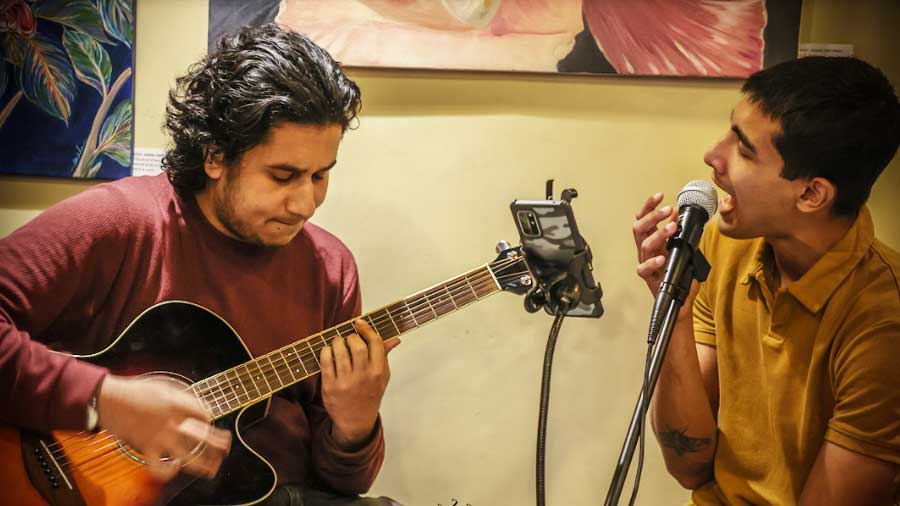 Courtesy of the Tuli Mitra / Chaitown community
There were plenty of other poetic and musical performances after mine, with young musicians even sharing their original compositions with other audience favorite tracks, but one thing stood out for me that night.
About an hour after the performances started, when everyone received sheets of paper with Christmas carols on them, I felt a dizzying wave of excitement run through me. In what turned out to be my favorite part of the evening, we all spent the next 10 minutes singing well-known Christmas carols, including, of course, the ever-popular long live the wind.
We were still two whole weeks away from Christmas, but inside this cafe in the middle of town, as the familiar notes of "Dashing through the snow" wafted around us and mingled with the aroma of coffee. and fresh baked cookies, it was easy to believe it was Christmas.
Courtesy of the Tuli Mitra / Chaitown community
After a few more performances, the evening ended with Elizabeth Decker – affectionately referred to as Aunt Beth by organizers – reading a story to the audience. It was a nice and comfortable way to relax, almost like being in bed with a story for the night, except we all had to go back to the outside world and come home at the end of the evening.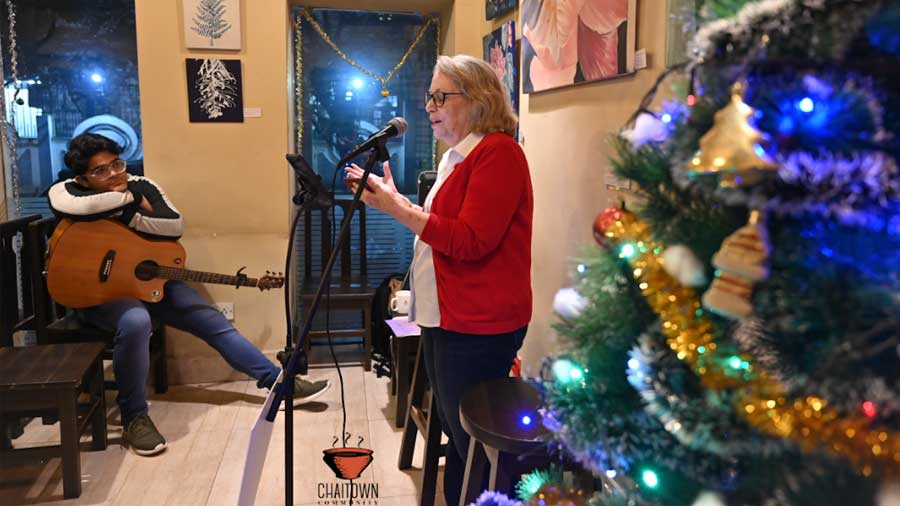 Courtesy of the Tuli Mitra / Chaitown community
When the pandemic came unexpectedly and locked us in the confines of our home, the world experienced a fundamental change in how it works. In what was a blessing and a bane, everything and everyone was now right on the other side of the screen – that rectangle that could bring together people separated by oceans and yet somehow other, could never compare to a face-to-face interaction.
Over the open mic in the community of Chaitown, I felt after a long time, that familiar feeling of warmth, where a shared love for music and poetry is all you need to experience a sense of camaraderie with a band. random strangers. Having met new faces and made new friends, I was hoping this would be the first of many more nights to come, and that we could continue like this, without having to be pushed back to our side of the screen.