It was late afternoon in the scorching August heat, the sun beating down on a stage set up on Teewinot Slope at Jackson Hole Mountain Resort. A crowd of around 3,000 trampled on a cloud of dust like cowboys driving cattle.
Looking across the valley, Ben Harper and The Innocent Criminals sang "Glory and Consequence," a rock song about a mountain notorious for thrills – and danger. Sweat poured down Harper's face and streaked across his shirt as the song grew in intensity.
"I'm more afraid of falling than of flying high," he sang, as a group of paragliders circled overhead in the sky.
The moment was not only one of the highlights of Harper's set at the 2008 Jackson Hole Music Festival, but it embodied the Teton lifestyle. Overall, the performance was one of the most passionate seen in the last 30 years in this corner of Wyoming.
"I remember it like it was yesterday," Harper said by phone earlier this month from his home in Claremont, Calif. Although he's played several gigs here before, "I became intimately familiar with Jackson Hole on this trip. It was beautiful at this time of year.
From his perspective, Harper couldn't see the paragliders, but as an avid skateboarder, he appreciated hearing about the feat and its timing. "It's too hip," he said.
Harper will have another chance to enjoy the beauty and athleticism of Teton County when he returns Saturday to headline the Jackson Hole Rendezvous Spring Festival in Teton Village. Alternative rock band Cold War Kids and reggae stalwarts The Wailers will be the opening act.
The show comes at a time of change and renewal. This will be the first Rendezvous Fest in three years, with the last two being canceled due to COVID-19. Harper has only played a relative handful of gigs in the past two years, mostly solo, and in addition to the upheaval of the pandemic he has been reeling from the death of his longtime bassist Juan Nelson. , in June.
"It was a shock to all of us," he said. "There is no recovery. He would like us to continue, in his honor, if nothing else.
Nelson played with Harper for 27 years, and his bass playing was so robust he practically filled the roles of keyboardist, second guitarist or gospel choir in the band, Harper said.
"These are unfillable shoes," he said.
The bandleader assembled a new lineup of Innocent Criminals and rehearsed "probably more than at any time in my life", he said. He recruited Leslie King on bass, Alex Painter on guitar and Chris Joyner on keyboards, all Los Angeles veterans.
Percussionist Leon Mobley, who sparked roars from the crowd in 2008 with his djembe solo capping the anthem "Burn One Down" (see video above), remains a rhythm section anchor, with longtime drummer Oliver Charles.
"Juan's passing brought us closer," Harper said. "We have always been a tight-knit band.
The band will draw from their deep catalog, as well as songs from a new double disc that Harper plans to release this year. Known for playing seated with a Weissenborn slide guitar or a Monteleone lap steel, Harper will play acoustic and other plugged in with the band.
"I want to strongly represent what people have been hearing for 30 years," he said. "I wish it was true to form."
Harper has stayed true since leaving Southern California in the early 1990s with deft guitar work and songs with a strong social conscience, such as "Excuse Me Mr." He became a mainstay on the festival circuit, his repertoire ranging from thunderous rockers like 'Ground On Down' to delicate love songs such as 'By My Side', 'Forever' and 'Diamonds on the Inside'. He easily goes from rock to reggae, from funk to folk.
In 2004, he recorded the Grammy-winning gospel album "There Will Be a Light" with The Blind Boys of Alabama. More recently, he recorded two albums with the great blues harmonica player Charlie Musselwhite and even an album with his mother, Ellen Harper, a strong musical influence during his childhood. His latest album, released in 2020 and entitled "Winter is for Lovers", is a solo instrumental work on which he only plays lap steel; each track is named after one of his favorite places in the world, from Joshua Tree to Lebanon and London.
"I'm everywhere," he said of his gender blending. Every year or so, he finds himself with a batch of new songs and returns to the studio to sort out the ones he's proud of.
Last year, he recorded a song with Ziggy Marley, "Spin It Faster," and his lifelong passion for reggae opens up opportunities for collaboration at Rendezvous with opening act The Wailers. Percussionist Mobley has played with Damian and Stephen Marley, and drummer Charles has played with Aston "Family Man" Barrett, whose son, Aston Barrett Jr., now runs The Wailers with Emilio Estefan.
Besides the 2008 concert in Teton Village, Harper has played other memorable shows in Jackson Hole. His debut here in the Snow King Ballroom in May 1998 made jaws drop, and he returned in 2001 to perform at the Snow King Center rink with Jack Johnson, sporting a sleek black cowboy hat he had bought in Jackson.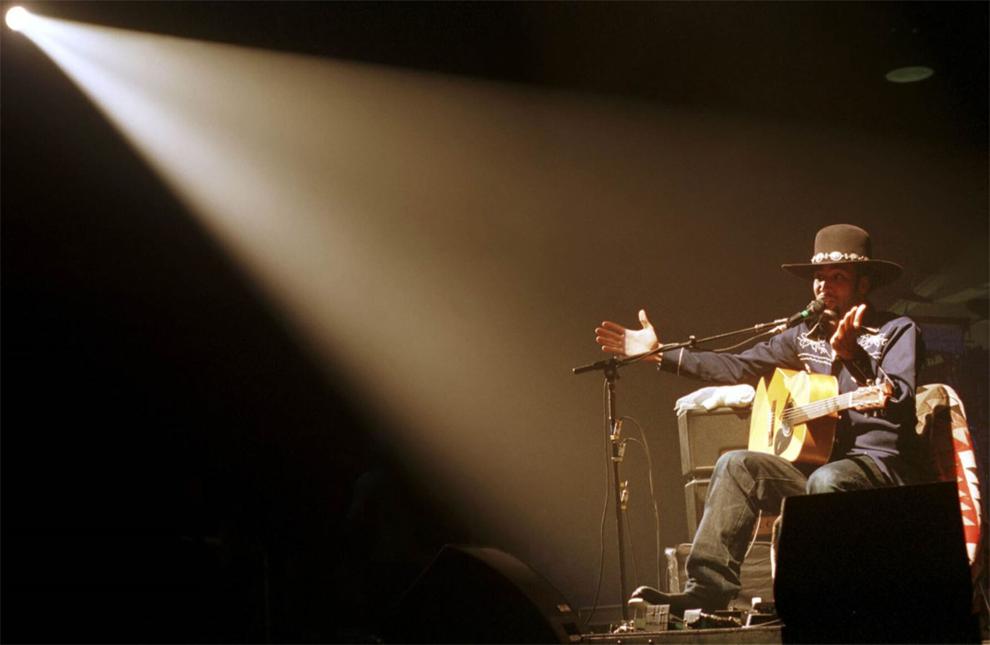 With the pandemic easing, "I couldn't be happier or more excited that my first official band gig was in Jackson Hole," he said.
At 52, Harper reflected on the resonance and resilience of his songs in a time of turmoil, with war in Ukraine and democracy in peril even in our own country. He's made a career in music rooted in the soul and spirituality, but as we get older it's harder to maintain 'the will to live', as he sang on the title track of his album. from 1997.
"I don't know if it's easy or lazy or both to become cynical," he said. "I fight this apathy and cynicism as best I can. Sometimes I have to sing to get out of it.
The song "With My Own Two Hands" is a particularly powerful anthem, as its title implies a call to individual action – to create a nicer place, to clean up the Earth, to help the human race. Along with "Forever", it's a song people often stop by on the street to talk about and share their stories of inspiration. Harper and the Innocent Criminals closed with him at the 2008 festival, a sea of ​​hands in the air.
"It's one of those songs you write where you know you're not going to write a better one," he said. "I'm honored that he has toured the world and continues to do so."
An event like the brutal Russian invasion "defies the sentiment" of the song, he said. However, "I remain optimistic and I believe in what I sing. Sometimes you sing for now, and sometimes you sing for the future. Nothing is a panacea, not a politician, a father, a mother.
"I believe in the collective commitment that we can grow towards each other, and not far from each other," he said. "I have to believe it. I believe every word of it to this day.
Quoting Bob Marley, he said: "Some days it's harder to 'get up and stand' than others. Woody Guthrie sang "This Land Is Your Land". He believed in it, and that's what gave him his strength.
"At the end of the day, it's not just my song, it's my epitaph."
With Jackson Hole emerging from the pandemic but still under pressure from a changing community and political and economic fissures, Harper is eager to bring an infusion of positivity. He has friends in the area and plans to arrive a few days early. In preparation, he did some research on Wyoming and was impressed to find that the equality state was the first to give women the right to vote, and that Jackson elected the first all-female city council and mayor. in 1920.
"The first state in the union where women could vote, what an incredible claim," he said. "I should have known that already."
The free outdoor concert will be a much-needed dose of soul, not just for the public.
"I can't tell you how much I rely on you for support and sonic connection," he said.