//= do_shortcode('[in-content-square]') ?>
Ukrainian illustration artists showcase their work in a stunning online exhibition in conjunction with Swansea Print Workshop.
This exhibition focuses on the war in Ukraine and features works by Ukrainian artists currently living in a war zone, seeing the effects of bombs falling, lives torn apart and homes destroyed.
The exhibition is part of a larger effort to shine a light on Ukrainian warfare, and organizers say the huge variation in styles reflects the many different experiences and responses to the conflict.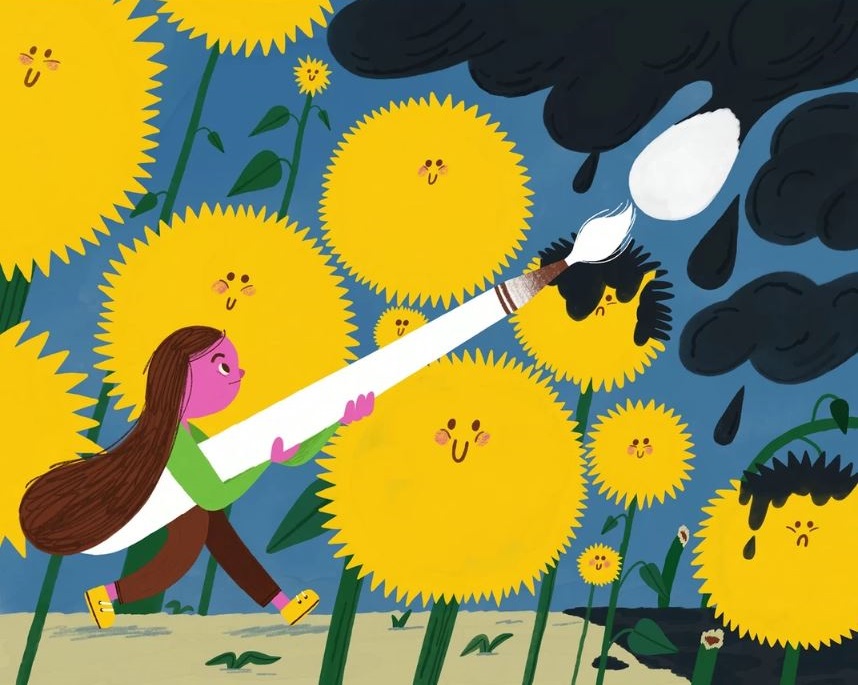 Rose Davies and Melvyn Williams of Swansea Print Workshop were approached by a group including the Learning For Wellbeing Foundation, ACT2gether to help show what is happening on the ground in Ukraine and showcase the resulting work.
Pictoric is a club of Ukrainian illustrators is a society of illustrators, graphic designers and artists representing Ukraine creatively at a high level at international events.
As a syndicate of successful young art professionals, the Pictoric Club organizes art exhibitions, master classes, conferences and panel discussions facilitating collaboration between artists and publishers.
When Russia began a full-scale invasion of Ukraine, affiliated artists began to work hard, expressing their thoughts and reflections on the war through illustrations. Pictoric has created a website that brings together all of these works to reflect all that is currently happening in Ukraine. Most of the illustrators stayed in Ukraine and continued to work in bomb shelters.

Established since the beginning of the war, the website already has more than 150 works created by more than 30 Ukrainian illustrators, and this number is only growing. The aim is to increase the media visibility of the site so that people from other countries know about the real events in Ukraine.
Rosie Davies said: "Swansea Print Workshop (SPW) is one of the first artists' organizations in the UK to respond and SPW member Melvyn Williams quickly put together an exhibition of some of the hundreds of works of art showing the realities of life in a modern war zone.
"Most war art is officially commissioned and filtered through the political prism of governments or the military. This art is practiced by people in the field who react to what happens to them as it happens. It's a historical document and a glimpse into the real life of people who want the world to know what they're going through.
"Melvyn has also made a short film featuring some of the Pictoric band artists which can be seen below. The interviews were recorded on April 20, 2022."
As a syndicate of successful young art professionals, the Pictoric Club organizes art exhibitions, master classes, conferences and panel discussions facilitating collaboration between artists and publishers.
Since its establishment in 2014, Pictoric has created many international and national projects, in which the best Ukrainian and foreign illustrators have taken part.
Notable projects include "Prominent Ukrainians", "Yellow & Blue", "Face to Face: Human Rights in the Digital Age", "Trust but Verify: Media Literacy in the Ukrainian society", as well as the annual international exhibition of illustrations and lectures at the largest book festival "Book Arsenal" in Ukraine.
Explaining the project in a statement, Pictoric said, "We believe that illustration is one of the main ways to maintain a dialogue between artist and society. We believe a picture can say more than an hour-long conversation. Pictorial illustrators create their works from real events.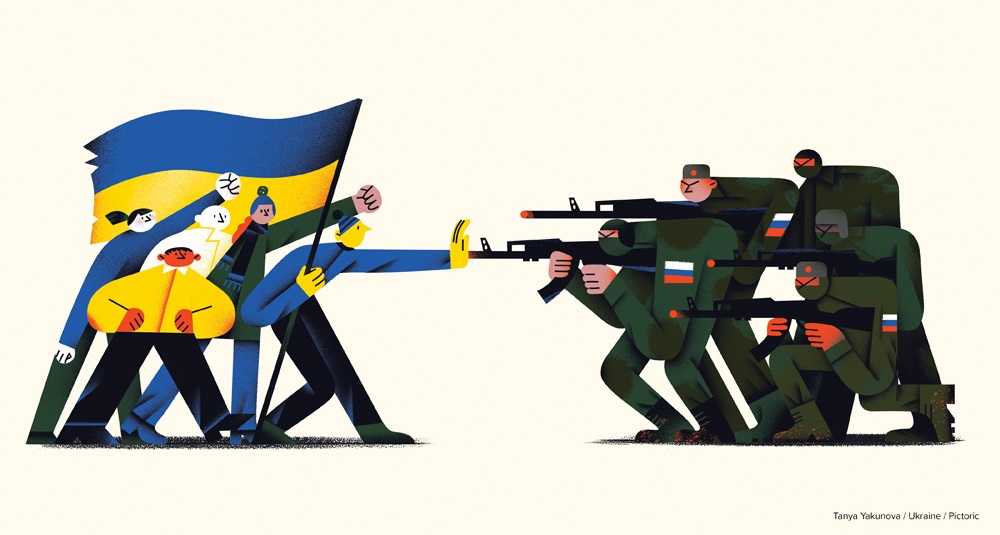 "An artist can subtly convey emotions through idea, composition and color. Unlike a journalist's documentary, an artist-designed illustration creates a complete picture of the event.
"Of course, emotionally it is difficult to work in the current situation. However, to continue to work, in our opinion, is the best we can do now because it is also our professional responsibility. Moreover, after the war, these illustrations will go down in history as a document that covers all these terrible things that are happening right now.
"Currently, we are feeling the support from different countries, where people are going to rallies, welcoming refugees and helping with humanitarian aid. However, our biggest fear is that the world will grow tired of this program and find its rhythm of normal life after a while.
"Of course, we don't want the world to be in constant tension, but we want to spread the word as much as possible so people know how devastating our reality is today. It's one thing to watch the news on TV, and a completely different feeling of being there, absorbing an artistically interpreted image that will stay in your heart.
You can visit the Swansea Print Shop exhibition here and see the full exhibition and find out how to support artists here. Follow Pictoric on Facebook to find out more about exhibitions around the world.
---
Support our Nation today
For the price of a cup of coffee per month, you can help us create an independent, not-for-profit national news service for the people of Wales, by the people of Wales.