VOEZ (Free) by Rayark International Limited is a beautiful rhythm music game that puts the spotlight on J-pop. If you're a fan of games like Dance Dance Revolution or the classic Tap Tap Revenge, and enjoy a bit of catchy J-pop melodies, then VOEZ is one to check out. It's a great addition to Rayark's other great games, including Cytus, Deemo, and Implosion – Never Lose Hope.
When I was in high school, I was hanging out with a group of friends who were great into Japanese culture and anime, which touched me. Even though I haven't followed anime in recent years, I still love Japanese culture and the anime and manga art style. I also remember listening to my fair share of J-pop back then, and that was when those music games with plastic peripherals were all the rage. Although I certainly wasn't the best with music games back then, I still enjoyed them very much because they were challenging and just plain fun. I don't know Cytus or Deemo too well since I haven't had the opportunity to discover them, but with VOEZ present on the App Store, I couldn't do without them, especially since I really liked Implosion.
Visually, VOEZ is stunning. It features beautiful hand-painted anime-style artwork and visuals that will appeal to anyone with even the slightest interest in Japanese culture. The art of each of the characters is beautifully rendered, and all the colors are soft but still vibrant enough to stand out. Musical notes are simple shapes and lines that fall across the screen in brightly colored sections, so while it looks simple enough, things still get quite tricky as you increase the difficulty levels for each track. . All of VOEZ's animations are smooth and fluid, which is necessary for a musical rhythm game, but be prepared for quite long waiting times as the game loads all necessary data for each track. It reminds me of those times when I'm playing on my PlayStation 4 and need to load the next section of a game – yes, the wait between tracks can be that long. I hope they can do it a little faster in the future.
Since this is a rhythm game, the meat of VOEZ is the included music tracks. The initial download includes a good amount of different tracks that you can play and unlock as you progress, and the developers plan to add more every month. If you're looking for American music, you should turn around now – it's nothing but dynamic J-pop songs that will sound a little different depending on how you play. But if you are a fan of the musical genre, you will find yourself in a corner of paradise with VOEZ. I found the songs soothing and upbeat, and once you practice tapping to the beat, things get pretty addictive.
Like other music games, VOEZ has many songs available with the initial download, but you'll need to clear the songs in order before you can unlock them all. Or, if you're impatient and want to get a song later now, you can unlock them using "keys" earned by playing, or you can pay to unlock them through an in-app purchase. There are also in-app purchases to get more keys. I'm not a huge fan of this system, as it doesn't seem like unlocking new songs requires too much skill. At least you get a good variety of songs to start with, though.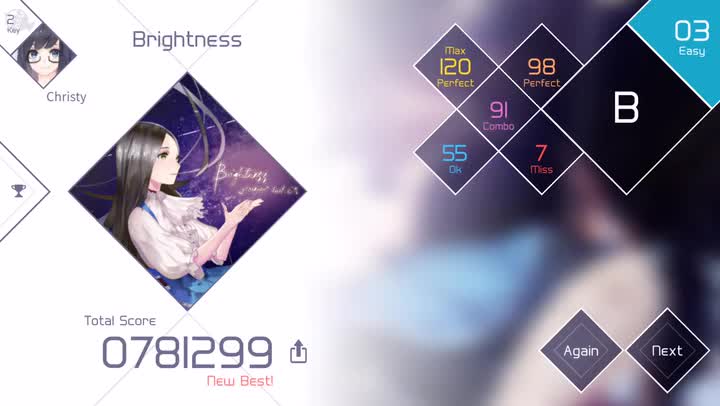 VOEZ is rather interesting since it is a musical game but there is a story. In VOEZ, players will meet Chelsea and her high school classmates, who reunite and fulfill their common dream by forming a band together, which is called VOEZ. They will face difficulties together, but their end goal is to make sure the world knows their music. It's a pretty cliched plot, in my opinion, but it works for the game, the art, and the music. And it adds another layer of depth to the game's journey, which is nice to have.
The controls in VOEZ are quite simple. With single notes, you'll want to type them as they hit the line. Longer notes require you to long-press the screen, even slowly moving your finger in the direction the lines are pointing. Then there are single notes that require sweeping in the direction they point. While this may all seem pretty easy, as with any other rhythm game things can get quite fast and hectic, especially on the higher difficulty levels, so you'll need good hand-eye coordination to keep pace. To make things more complicated, each track has dynamic notes, which means the lines of the notes can move across the screen, so you'll have to make sure to watch them closely. These little gameplay additions set VOEZ apart from the competition, and it makes things much more interesting than the status quo for music games.
I've only started on VOEZ for a bit over the weekend, but so far I find the game fun and enjoyable, despite the weird song unlock system. The art is superb, the tunes are fun and memorable if you like J-pop, and the controls are easy enough to learn even for newbies to music games. However, the dynamic gameplay of each song makes the game refreshing and challenging, so if you're looking for a test of your rhythm, then VOEZ will do the trick pretty well. I just want to see faster load times for each track and a better unlock system in the future, but I can't wait to check out new monthly tunes.
I recommend VOEZ to anyone who loves music rhythm games or just loves J-pop and anime-style art in general. VOEZ is available on the App Store as a free universal download with in-app purchases.
Applications mentioned
Free
SEE
Rayark International Limited
$1.99
Cytus
Rayark International Limited
$1.99
Demo
Rayark International Limited
$9.99
Implosion – Never Lose Hope
Rayark International Limited
Related Articles