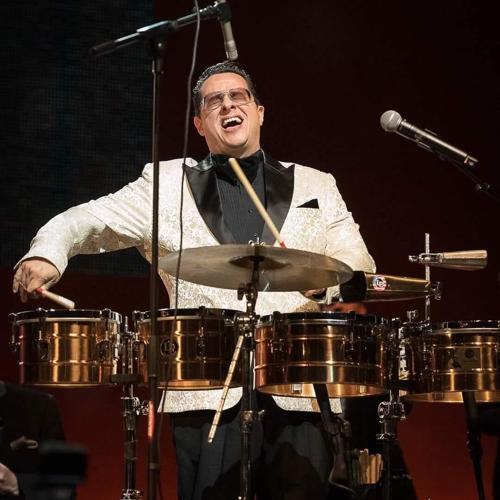 RYAN LOUGHLIN

When it comes to salsa, mambo and Latin jazz as a whole, there is no greater legend than the late Tito Puente. A Spanish Harlem native and bandleader, pianist, and percussionist, Puente rose to fame in the 1950s and helped introduce the world to the infectious rhythms of Afro-Cuban, Latin, and Caribbean music. His signature song "Oye Como Va" was covered by the band Santana in the late 60s and is one of the most famous Latin songs ever recorded.
Puente passed away in 2000, but today his youngest son, Tito Puente, Jr., continues his legacy by performing much of the same music his father made popular so many years ago. He's coming to Somers Point for a live concert with his Latin Jazz Big Band as part of the South Jersey Jazz Society's Spring Jazz Series at 7 p.m. on Wednesday, June 8 at William Morrow Beach in Somers Point.
We had the chance to chat with Puente about her musical inspirations, her upcoming show, and what it's like to be a performer with so much to experience. Here is what he had to say:
RYAN LOUGHLIN: Did you always want to be a musician as a kid, or was there ever a time when you wanted to do something that wasn't so tied to your father's legacy?
TITO PUENTE, JR. : My first inclination in high school was to become an undertaker and go into the field of forensics. I studied forensics and planned to go to school for it. I went to the local morgue and saw dead bodies and everything. But then my dad said, "Why would you want to do something like that when you can play music and bring joy to people?" And that upset my plans, and I became a full-fledged musician again. But I had a fascination with forensics, and I loved the technology and the way we were advancing scientifically. And, at the time, I didn't like mambo music! I liked rock music. I've always liked heavy metal bands like Iron Maiden, Bon Jovi, Slayer and Metallica. Those were my bands at the time, and my dad didn't understand that. But I had the chance to travel with him and learn more about Latin music, culture and history and what he brought as a genius musician, composer and arranger.